Find out everything you need to know about Tall Ships in Victoria whether they are arriving, left or permanently based here. You'll find the latest on events, fundraising, news and tour bookings.
Latest News: Updated December 2018
Want to jump on board The Endeavour? There's voyages planned for 2019. Only serious thrill-seekers need apply!!! Read more…
---
Melbourne Based Ships
They include Alma Doepel and Enterprize* based in Docklands, Melbourne. (*offer regular voyages you can join).
Alexander Stewart
Alexander Stewart has relocated to Airlie Beach and will be available for charter trips in the Whitsundays. TSV thanks Ivan Michell for his enthusiastic support for TSV and for traditional wooden sailing vessels. Fair winds, Ivan!
Alma Doepel
Float Alma in 2019
To see how you can contribute see Donate. For more information on the project, see current projects- Alma Doepel.
The Enterprize
This tallship gives people of all ages the opportunity to experience life on board a nineteenth century sailing ship. It's a replica of the vessel that brought the first European settlers from Tasmania to Melbourne in 1835.
---
Visiting Ships
Tenacious
This tall ship, built for disabled and able-bodied sailors, arrived in Melbourne in August 2016 and left 4 December 2017. You can still book your voyage with many options available. To read more about the voyages and prices, see: JST Australia Brochure. To make a booking, see: JST Voyages. Read about their great write-up in Outer Edge magazine. For more information about the ship see Tenacious or to view the full media release see their latest news.
Young Endeavour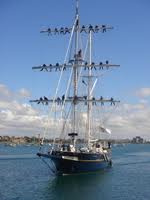 The Young Endeavour (Sydney) has a great youth scheme so check out their website to keep up to date.
The Ocean Education Centre 
"Engaging with the marine environment"
Tall Ships Victoria has developed a project involving the use of tall ships in marine science and research, education, edu-tourism, and marine construction and training.
To find out about our centre and what goes on, see current projects-Ocean Education Centre.
---
Geelong Wooden Boat Festival
TSV is working with our new Organisational Member, The Royal Geelong Yacht Club, to expand tall ship activities at the Geelong Wooden Boat Festival. This year (2018), TSV generated a lot of interest by having a marquee in the centre of the displays. Alma's success included sale of merchandise as well as some $500 planks. Tall ships represented at the marquee included Alma Doepel, Enterprize, Alexander Stewart, Coral Trekker (from Sydney), STS Leeuwin II (from WA) and Tenacious (UK). Ships attending the festival included Enterprize, Alexander Stewart and Coral Trekker. The next festival will be held in 2020.