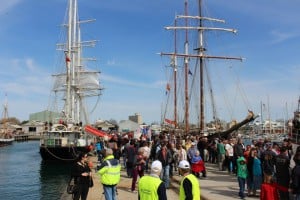 Festivals involving Tall Ships have proven to be defining events in establishing the character of great maritime cities. Tall Ships provide an inspiring, spectacular and profitable focus for land and water-based activities, proven in festivals around the world. Port Phillip is a world-class stage for Tall Ship activities involving community, corporate and tourist participation.
Tall Ships Festivals in Victoria will raise public, corporate and tourist awareness of the value of Port Phillip as an asset to the State, to the City of Melbourne and to other local city areas. Regional and rural areas would also benefit from visits by ships en route to Melbourne. With the success of the recent Tall Ships events held in Williamstown and Victoria Harbour (2006-2013), future events are likely to attract increasing numbers of Australian and international ships.
The tall ships
Tall Ships come in many rigs and sizes. Not all are majestic square-rigged ships, yet all have individuality and public appeal. Invitations will be issued to all Australian tall ships and sail training vessels, and to ships of the international Tall Ships fleet. Port Phillip could host at least 4 large (Class A – square-rigged) ships, 10 medium-sized ships and 30 smaller vessels.
Classic yachts already based in Port Phillip or in other Australian ports will be invited to take part in Festivals, particularly in the Parade of Sail or in-port maneuvers, which are always popular and spectacular events.
The crews
The ships are the stars of any Tall Ship Festival, but their crews bring the event to life. Visiting Tall Ships would carry upwards of 2,000 crew between them, plus supporting families, shore parties and overseas enthusiasts; this core of participants is expected to attract many of thousands of spectators to join in the water and land-based activities of the Festival.
The event
Tall Ships alone are a magnificent sight and a consistent and reliable attraction. Our concept of a Tall Ships Festival encompasses many more of the experiences Victoria has to offer and to ensure expansion of the event to include people of all ages, backgrounds and interests.
Business plans for our Festivals will explore:
• Arrival, welcome and departure events
• Cultural and multi-national celebrations
• Australia Day or Melbourne Day celebrations including a Parade of Sail
• Tall Ship races or maneuvers
• Participation in major yachting events
• Interstate and international crew exchanges
• Opportunities for the public to sail on some of the ships
• Introduction to sail training for local young people
• Sponsored participation for students and other people from regional Victoria
• Themed shore-based events eg. food and wine, entertainment etc
• Links with relevant Victorian tourist, educational and historical attractions eg. Gold Rush and Sovereign Hill, Immigration Museum, Melbourne Maritime Museum & Polly Woodside, Seaworks at Williamstown, Wool Museum at Geelong
The organisation
Tall Ships Victoria brings a sense of quality, professionalism and attention to detail to future Tall Ships Festivals based on experience with the organisation of the very successful 2006 Melbourne visit of Sydney Heritage Fleet's historic Tall Ship James Craig and subsequent visits by One & All, Young Endeavour, Spirit of Mystery, Windeward Bound, Duyfken, Cuauhtemoc, Stad Amsterdam, Soren Larsen, Tecla, Lord Nelson, Europa and Oosterschelde.
The benefits to Victoria
Tall Ships provide a natural and publicly accessible link to waterfront development and enhance the use of maritime facilities.
Organisational networks and infrastructure improvements for the Festival would leave a lasting legacy for the future operation and enjoyment of Tall Ships, superyachts and international racing yachts in Victoria. In turn these activities will boost the charter boat industry, connecting disparate special interest groups, engaging public interest and providing a catalyst for operation and maintenance of modern and heritage seaport sites.
Tall Ships provide a link between maritime heritage and active participation with benefits for education, cultural integration and community involvement.
And, at its simplest, the Tall Ships Festivals can provide a welcome spectacle and days of entertainment and involvement for many, many thousands of Victorians, interstate and overseas visitors.
Keep in touch with Festival planning. As plans for future ship visits and Festivals develop, they will be reported here. So check back from time-to-time for an update on Melbourne International Tall Ships Festivals.