"Engaging with the marine environment"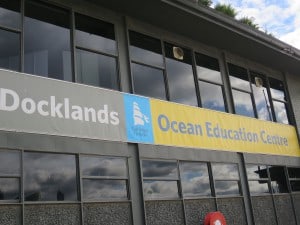 Tall Ships Victoria has developed a project involving the use of tall ships in marine science and research, education, edu-tourism, and marine construction and training.
The first stage of this project was the opening early in 2011 of the Docklands Ocean Education Centre at Shed 2, North Wharf Road, Docklands, VIC 3008. An Engagement Grant from the University of Melbourne has established a marine aquarium and an experimental "water table" for display and research on marine species from Port Phillip and other Victorian waters. These will be used in educational programs for the public and for school students.
Shed 2 is also the operations base for the topsail schooner Enterprize and the site for the restoration of the historic Australian sailing ship Alma Doepel. When back in operation Alma Doepel will be first of several tall ships to be used by the Ocean Education Centre. Visitors to the Centre will be able to view the remarkable restoration work on Alma Doepel (http://www.almadoepel.com.au/)
Enquiries are invited from groups and organisations interested in supporting and participating in the activities of the Centre, which has the following aims:
– Engage and foster community interest in science, science education and science careers among senior secondary and tertiary students
– Focus on the growing need for a greater knowledge of environmental change, particularly related to the ocean
– Use innovative communications and IT technologies to reach a broad spectrum of the population which might not otherwise engage with today¹s marine and environmental issues
– Meet the growing demand among adult audiences for active engagement with topical issues related to science and the environment.
Please contact: Dr Peter Harris at peter.harris@tallshipsvictoria.org