One and All
One and All was with us from 9-11 May 20??, arriving at Workshops Pier with their annual sail training group from Carey Grammar – then returned with to Wallaroo, SA with another youth group.
James Craig
James Craig left Williamstown at 0900h on Thursday 7 February 20?? – with the gearbox repairs and tests completed.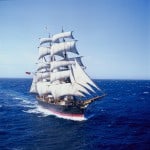 1300 passengers were disappointed not to sail during this visit but are looking forward to the next time the ship ties up at Workshops Pier. Around 8,000 people did come on board and enjoyed tours of this magnificent ship and brought new life to Workshops Pier and the historic Seaworks site in Williamstown.
Thanks from Tall Ships Victoria to the officers and crew of James Craig and to all those who supported the ship's visit in many ways. Come back soon!